Gliomas, including glioblastoma, are primary brain tumors that reside amongst the most deadly forms of cancer. In particular, glioblastomas are universally fatal with a median survival of just over a year despite the most aggressive treatment regimens. Within the past 50 years, the only improval to glioblastoma median survival has been the addition of temozolomide to standard of care. Considering these facts, the Hambardzumyan lab has taken it upon ourselves to devote our time, effort, and thought to research for novel therapeutic pathways for the treatment of glioblastoma. Our ultimate goal is the improvement of the lives of pediatric and adult patients afflicted with glioblastoma. To achieve this goal, we are currently investigating targets we believe have the potential to act as life-extending or palliative therapeutics. Each of these targets revolves around the previously underappreciated and untapped interactions between cancerous and immune cells within the tumor.
Recent advances in our understanding of glioma biology have elucidated a complex tumor microenvironment consisting of both neoplastic and non-neoplastic cells. These cells communicate through a complex network of cell-cell interactions, cytokines, growth factors, and other signalling molecules thereby driving tumor growth, invasion and treatment resistance. Particularly, tumor-associated macrophages have been shown to constitute a large portion of the microenvironment and are thought to contribute to the treatment-resistant phenotype of high grade gliomas. Therefore, the Hambardzumyan laboratory has taken on the challenge of disecting the role of tumor-associated macrophages in gliomas utilizing genetically engineered mouse models as well as cutting edge imaging techniques, organotypic slice culture, and large scale gene expression analysis. Moreover, through partnerships with other Winship members, the Hambardzumyan lab has performed immunohistochemical and gene expression analysis on human tumor samples. Through this work, the lab hopes to elucidate novel therapeutic targets to allow for the development of pharmaceuticals that target the interactions between neoplastic and non-neoplastic cells of the tumor microenvironment.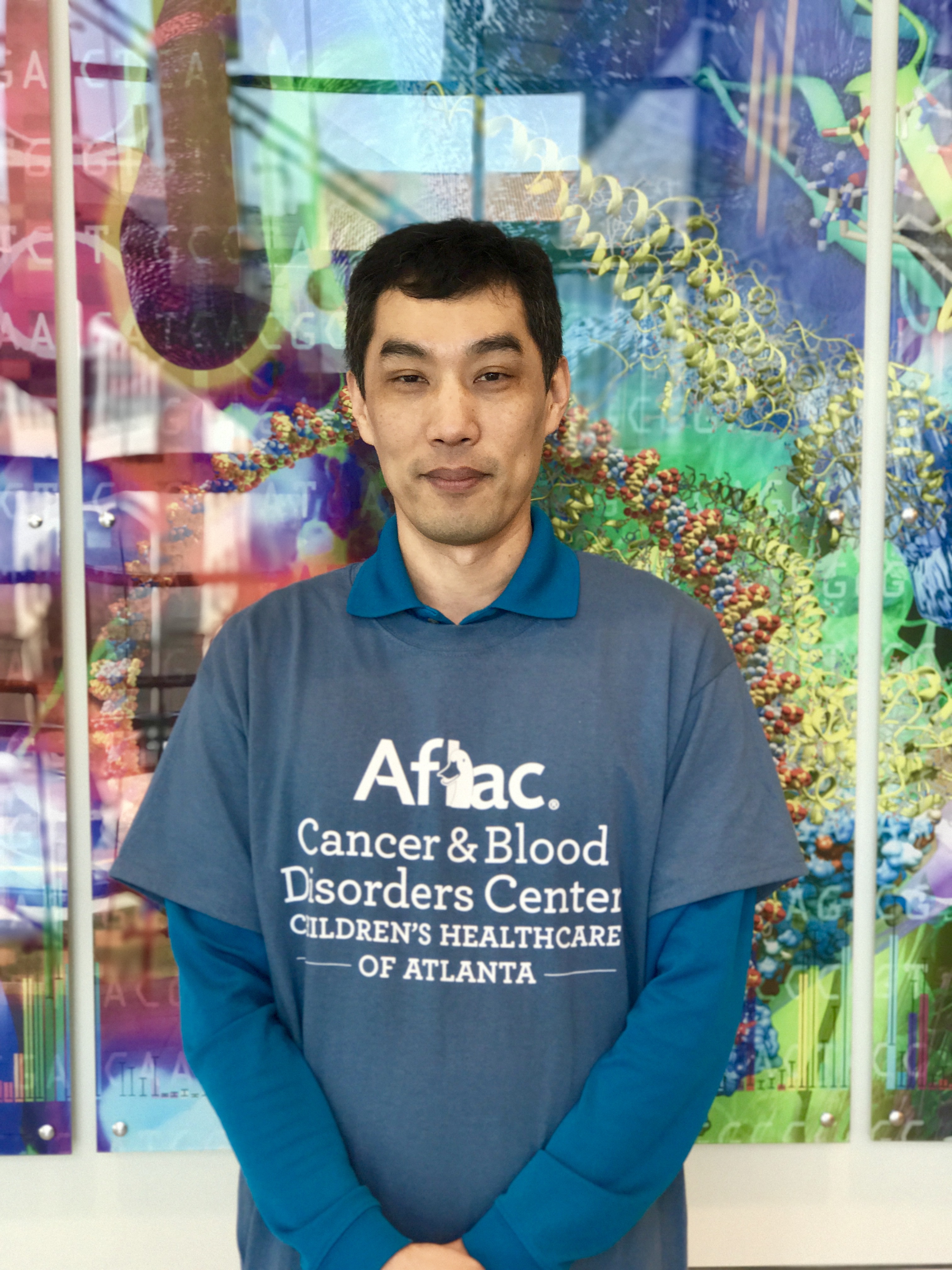 Zhihong "Z" Chen, PhD: Z is an instructor working in the Hambardzumyan lab. He received a Master's degree in Biochemistry from China Pharmaceutical University in Nanjing, China and a PhD degree in Immunology from the University of Ottawa in Ottawa, Canada. He completed a postdoctoral training at the Cleveland Clinic in Cleveland, OH. His research focuses on the innate immunity in various CNS diseases. He had demonstrated that gammadelta T cells are capable of inflicting injuries to brain tissue in multiple sclerosis patients via a cytotoxic mechanism termed "ADCC". He also showed that microglia, the resident macrophage of the CNS, can protect the brain from traumatic injury. His current work in the lab investigates how peripheral monocytes and CNS microglia differentially contribute to glioblastoma development in relevance to different GBM subtypes. Dr. Z has broad expertise in Neurosciences and Immunology and applies cutting-edge technologies such as 3D electron microscopy, multiphoton microscopy, FACS, and laser-capture microdissection in addressing his scientific questions.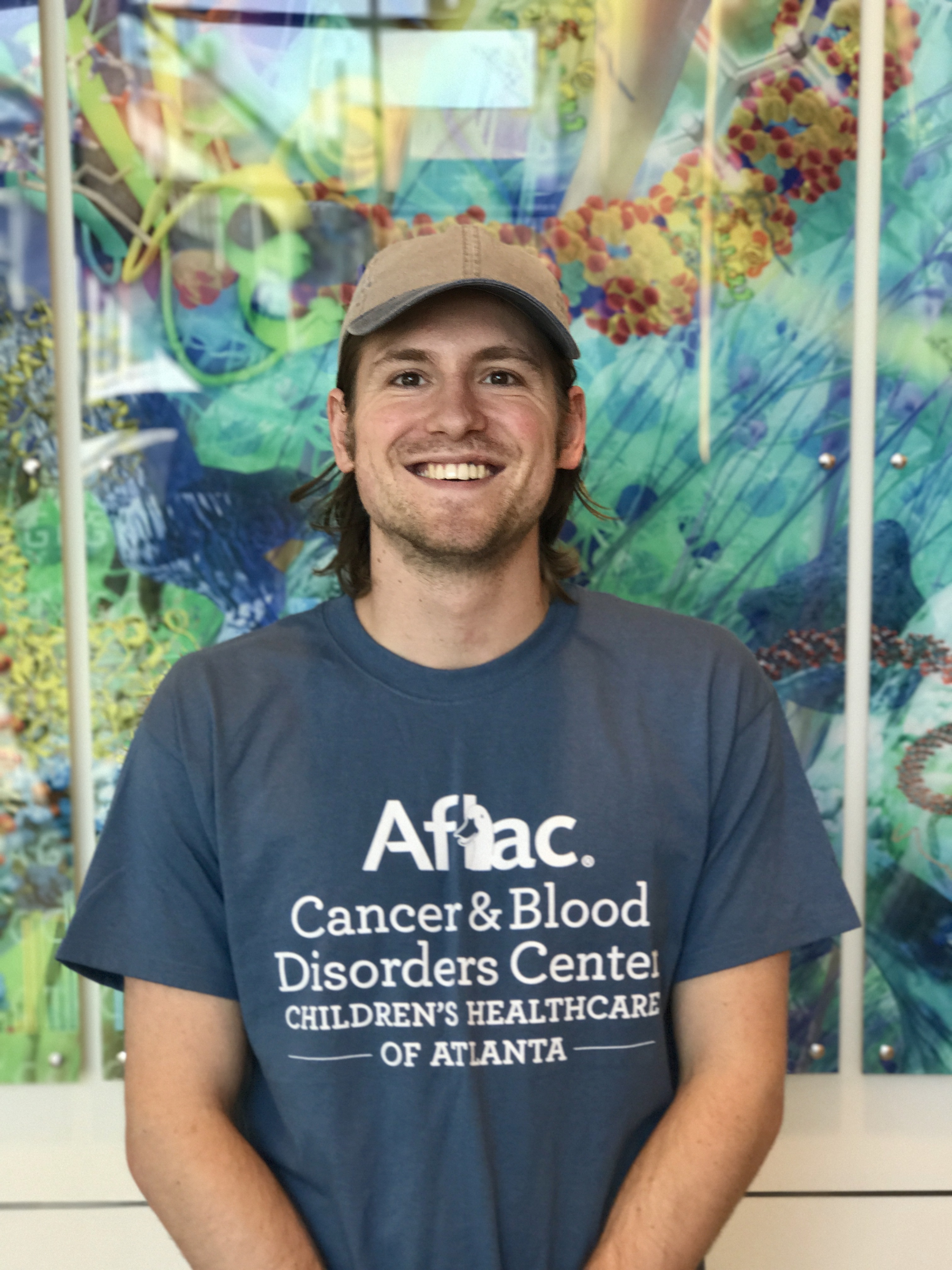 Cameron Herting, BS: Cameron received a BS in Chemistry from Emory University. Following graduation, he matriculated into the Molecular and Systems Pharmacology program where he currently resides as a graduate student and Ruth Kirschstein pre-doctoral fellow. Cameron's research in the Hambardzumyan lab focuses on the functional differences in tumor-associated bone marrow-derived macrophages and microglia related to IL-1 signaling. This research relates to his interest in how dexamethasone alters IL-1 signaling and tumor-associated macrophage activity. He hopes to utilize his expertise in pharmacology to design a novel therapy to treat brain tumor-associated edema. To achieve this goal he utilizes his expertise in primary cell culture, confocal microscopy, flow cytometry, MRI, and mouse models of high-grade gliomas.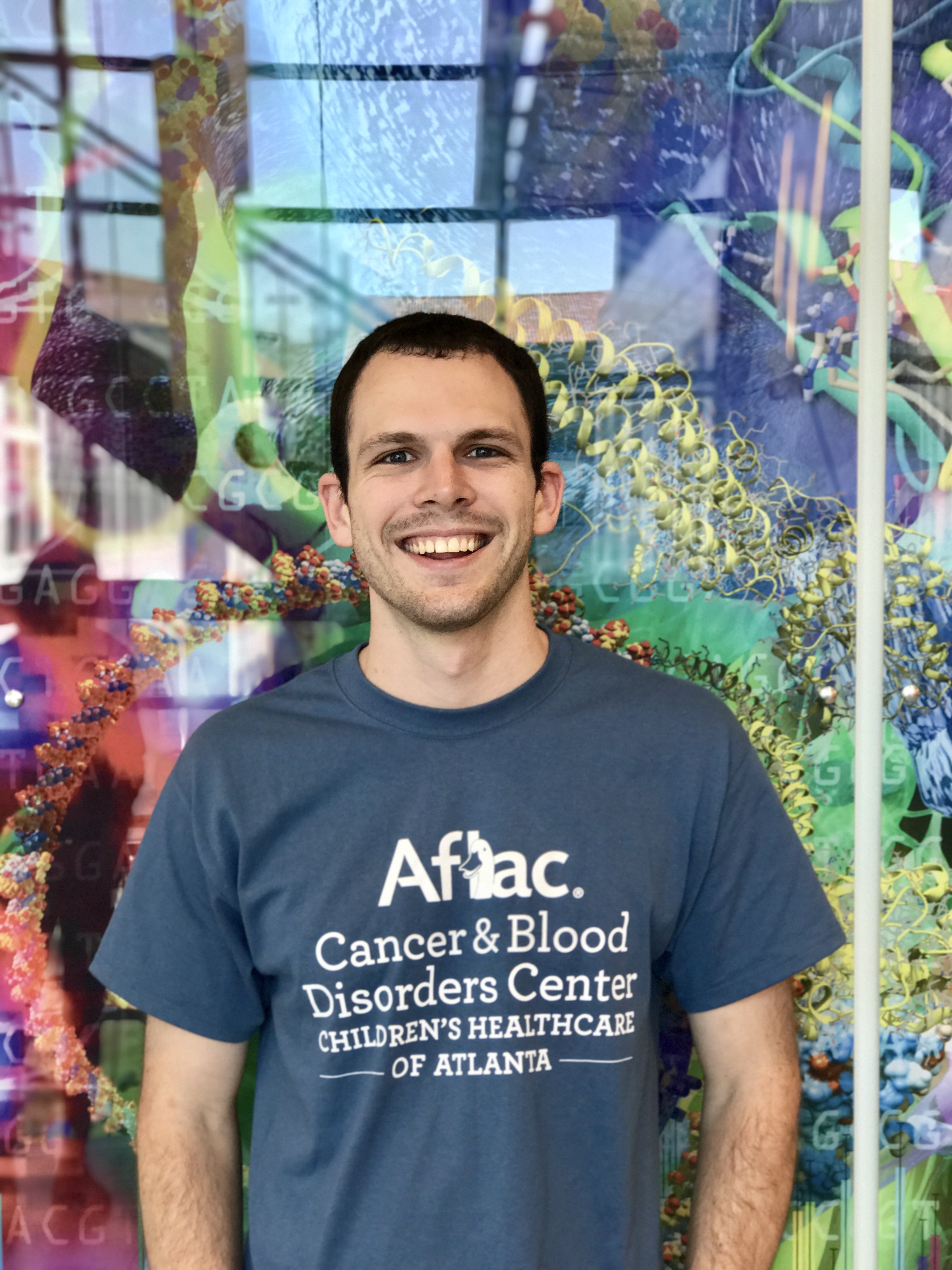 James Ross, BS: James received a BS in Biochemistry from Berry College and is a Ruth Kirschstein Predoctoral Fellow. He is now a 4th year graduate student in the Cancer Biology program studying how different oncogenic driver mutations effect tumor associated macrophage infiltration in pediatric high-grade gliomas. He utilizes mouse models consisting of differential PDGF signaling and histone mutations that are commonly found in humans to recapitulate the disease in a clinically relevant manner. James' interests are fueled by a desire to make lasting contributions to the neuro-oncology field, with goals of running his own brain tumor lab. To achieve these interests, he utilizes patient tissue samples and mouse models, coupled with molecular biology techniques and flow cytometry. He hopes to contribute to our understanding of the pathological drivers behind pHGG progression and aid efforts in classifying, managing, and treating this uniformly fatal disease.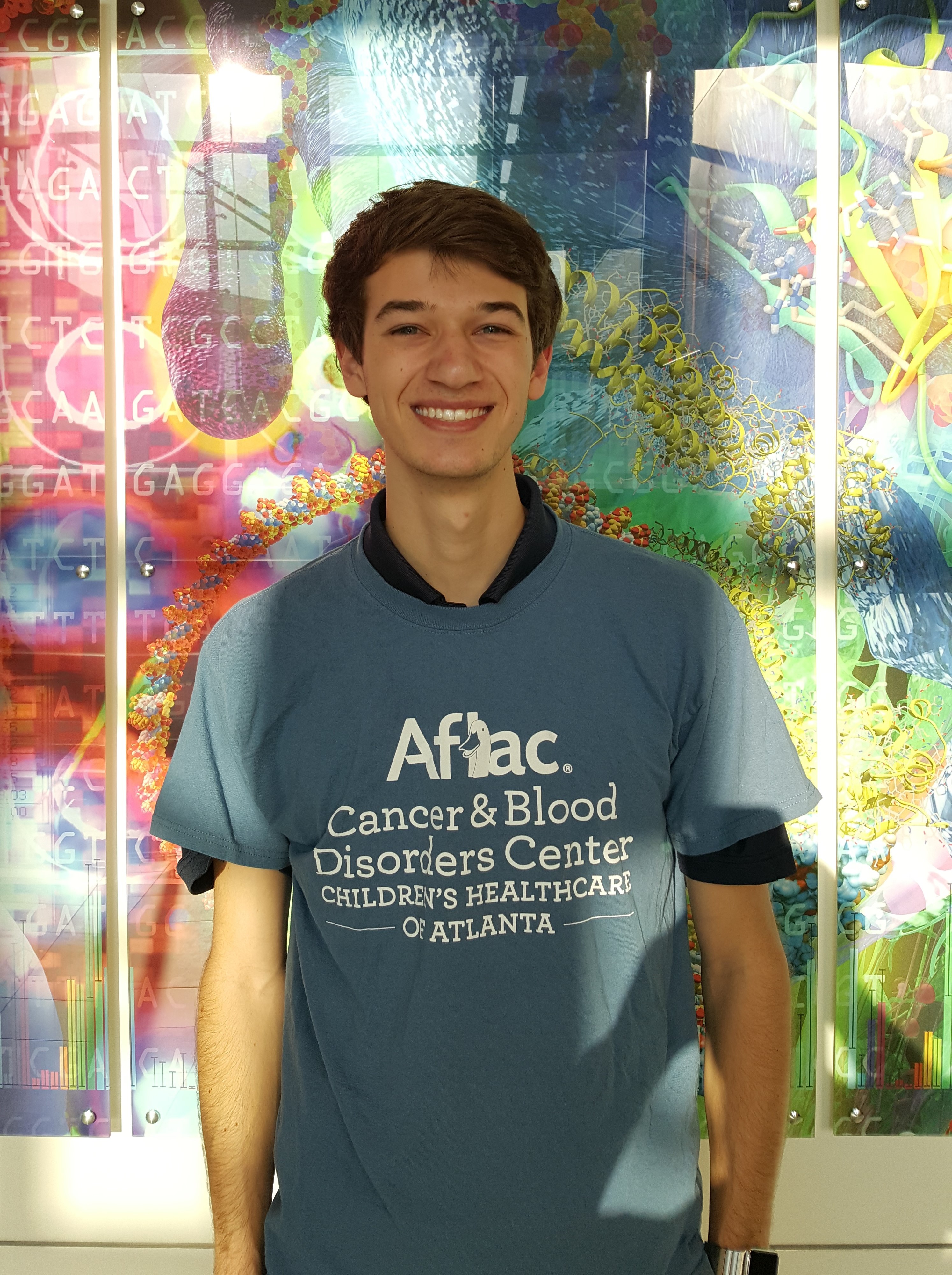 Ben Gabanic: Ben is a motivated undergraduate at Emory who joined the lab in the fall of 2017. He is a native of Cleveland, Ohio and has aspirations of matriculating into medical school following graduation. Ben has already demonstrated his expertise in tissue processing, brain slicing, immunohistochemistry, immunofluorescence, and image analysis. With his enthusiasm and dedication he has helped contribute to the progress of each of our lab's projects.
Chen, Z., & Hambardzumyan, D. (2018). Immune Microenvironment in Glioblastoma Subtypes. Front Immunol, 9, 1004. doi:10.3389/fimmu.2018.01004

Chen Z, Feng X, Herting CJ, Garcia VA, Nie K, Pong WW, Rasmussen R, Dwivedi B, Seby S, Wolf SA, Gutmann DH, Hambardzumyan D. Cellular and Molecular Identity of Tumor-Associated Macrophages in Glioblastoma. Cancer Res. 2017;77(9):2266-78. Epub 2017/02/27. doi: 10.1158/0008-5472.CAN-16-2310. PubMed PMID: 28235764.

Herting CJ, Chen Z, Pitter KL, Szulzewsky F, Kaffes I, Kaluzova M, Park JC, Cimino PJ, Brennan C, Wang B, Hambardzumyan D. Genetic driver mutations define the expression signature and microenvironmental composition of high-grade gliomas. Glia. 2017. Epub 2017/08/25. doi: 10.1002/glia.23203. PubMed PMID: 28836293.

Pan Y, Smithson LJ, Ma Y, Hambardzumyan D, Gutmann DH. Ccl5 establishes an autocrine high-grade glioma growth regulatory circuit critical for mesenchymal glioblastoma survival. Oncotarget. 2017;8(20):32977-89. Epub 2017/04/06. doi: 10.18632/oncotarget.16516. PubMed PMID: 28380429; PMCID: PMC5464843.

Pitter KL, Tamagno I, Alikhanyan K, Hosni-Ahmed A, Pattwell SS, Donnola S, Dai C, Ozawa T, Chang M, Chan TA, Beal K, Bishop AJ, Barker CA, Jones TS, Hentschel B, Gorlia T, Schlegel U, Stupp R, Weller M, Holland EC, Hambardzumyan D. Corticosteroids compromise survival in glioblastoma. Brain. 2016;139(Pt 5):1458-71. Epub 2016/03/30. doi: 10.1093/brain/aww046. PubMed PMID: 27020328; PMCID: PMC5006251.

Hambardzumyan D, Bergers G. Glioblastoma: Defining Tumor Niches. Trends Cancer. 2015;1(4):252-65. Epub 2016/04/19. doi: 10.1016/j.trecan.2015.10.009. PubMed PMID: 27088132; PMCID: PMC4831073.

Feng X, Szulzewsky F, Yerevanian A, Chen Z, Heinzmann D, Rasmussen RD, Alvarez-Garcia V, Kim Y, Wang B, Tamagno I, Zhou H, Li X, Kettenmann H, Ransohoff RM, Hambardzumyan D. Loss of CX3CR1 increases accumulation of inflammatory monocytes and promotes gliomagenesis. Oncotarget. 2015;6(17):15077-94. Epub 2015/05/20. doi: 10.18632/oncotarget.3730. PubMed PMID: 25987130; PMCID: PMC4558137.

Hambardzumyan D, Gutmann DH, Kettenmann H. The role of microglia and macrophages in glioma maintenance and progression. Nat Neurosci. 2016;19(1):20-7. Epub 2015/12/30. doi: 10.1038/nn.4185. PubMed PMID: 26713745; PMCID: PMC4876023.

Hambardzumyan D, Parada LF, Holland EC, Charest A. Genetic modeling of gliomas in mice: new tools to tackle old problems. Glia. 2011;59(8):1155-68. Epub 2011/02/10. doi: 10.1002/glia.21142. PubMed PMID: 21305617; PMCID: PMC3619979.

Bleau AM, Hambardzumyan D, Ozawa T, Fomchenko EI, Huse JT, Brennan CW, Holland EC. PTEN/PI3K/Akt pathway regulates the side population phenotype and ABCG2 activity in glioma tumor stem-like cells. Cell Stem Cell. 2009;4(3):226-35. Epub 2009/03/07. doi: 10.1016/j.stem.2009.01.007. PubMed PMID: 19265662; PMCID: PMC3688060.
Dolores Hambardzumyan: Aflac Pediatrics and Blood Disorder Center Start-Up Funds, R01NS100864-01A1, R21 NS106554-01
Cameron Herting: F31NS106887-01
James Ross: 1F31 CA2325531
For questions regarding protocols and reagents, please reach out to the relevant lab member at the email addresses below:
Zhihong "Z" Chen: zhihong.chen@emory.edu
Cameron Herting: cameron.herting@emory.edu
James Ross: james.ross@emory.edu
Ioannis Kaffes (2015-2016): Medical student at Charité University in Berlin, Germany
Kristina Alikhanyan, PhD (2015-2016): Post-doctoral fellow in the Department of Molecular Thoracic Oncology at the German Cancer Research Center (DKFZ) in Heidelberg, Germany
Milota Kaluzova, PhD (2015-2018): Research Associate in Winship Cancer Institute
Caroline Meier (2015-2016): Managing Director, Mass Cytometry Center of Excellence, Vanderbilt University
Fall semester went by extremely quickly. All members of the Hambardzumyan lab were able to enjoy an excellent Society for Neuro-Oncology Annual Meeting in November. James and Cameron presented well received posters and Z was able to captivate the audience with his fabulous oral presentation. Following the conference, we all were able to spend some time relaxing over the Thanksgiving and Christmas holidays. Dolores deserved a relaxing vacation after finishing the majority of her MBA. We are all very proud!
The beginning of the spring semester was highlighted by the resubmission of Ioannis' paper on subtype-specific tumor-associated macrophages to Frontiers in Immunology. We are hopeful that it will be published soon. Additionally, James and Z submitted the initial copy of their two-photon manuscript. We are eagarly awaiting the review on the paper.
Finally, James Ackley, a former rotation student, just decided that he will be joining the lab for his PhD. We are extremely excited to have him back and look forward to the results he gets on the VGF project in the lab. Welcome James!
The main highlight of August 2018 was a notification from the NIH that Dolores' R21 received a 2nd percentile score. We are cautiously optimistic about this grant being funded. It will allow us to investigate differences in tumorigenicity of the PDGFR ligands PDGF-B and PDGF-A. The high score on the resubmission of this grant would not have been possible without the hard work and dedication of all of the lab members with James making a significant contribution with respect to generation of preliminary data.
In related news, due to the potential increase in funding of the lab, we will be looking for a highly motivated post-doctoral fellow with an expertise in immunology. More details regarding this position will be announced soon. If there are any inquiries about this position prior to the official announcement, do not hesitate to contact any of the members of the lab.
The summer of 2018 has been productive for the Hambardzumyan lab. All members of the lab have been focused and committed to pushing forward their respective projects. Currently we have a handful of projects that are nearing initial submission and one paper that is currently under review. Ioannis, an alumni of the laboratory, with assistance from the current team, was able to submit his manuscript analyzing the composition of immune cell infiltrates in human glioblastoma tissue samples with immunohistochemistry. We are hopeful that this paper will be accepted soon!
Our other projects are centered around analyzing the effects and composition of the tumor microenvironmental immune cells under different conditions. We are optimizing and utilizing protocols to analyse these cells using groundbreaking technologies such as multi-photon and confocal microscopy, MRI, and flow cytometry. We are very excited about the preliminary data we have shared with one another in our weekly lab meetings and are excited to push it out into the literature once it is polished.
April 2018 was highlighted by the acceptance and publication of Z's review paper. It can be found here. We are quite proud of Z for this accomplishment and are excited about the foundation it has laid for the lab to investigate T-cell targeted therapies in glioblastoma. Stay tuned for more information about this project as it develops.
In other news, we are currently in the process of wrapping up a paper by Ioannis Kaffes, a former member of the lab. We will also post more information about this project when it is completed. Until then, we will continue to work hard in the lab and hopefully will provide more exciting results in the coming months.
The month of March 2018 has been great to the Hambardzumyan lab. James received a 9th percentile score on his F31 application and is almost certainly going to be funded. Additionally, Cameron received the notice of award for his F31 application. We all feel very fortunate to be part of such a wonderful group of scientists. Z is in the process of putting the final touches on a review paper regarding the immune microenvironment in glioblastoma. We will post a link once it has been published.
In other news, everyone has been hard at work collecting data for a variety of upcoming papers and grant applications. We are excited about the results of our experiments and are eagerly anticipating sharing them with the rest of the world. Stay tuned for the upcoming updates from the Hambardzumyan Lab!
The beginning of fall semseter has been a whirlwind in the Hambardzumyan lab. All current members (James, Z, and Cameron) are all putting the finishing touches on the initial submissions of their most recent projects. We hope to have papers in revision within the next few months. Moreover, all members of the lab are readying their posters and presentations for the Society for Neuro-Oncology annual meeting that will be held during the middle of November in New Orleans. With the start of the fall semester, the lab additionally grew with two rotating cancer biology students Lenore and Alyssa. They have been kept busy facilitating the progress of Cameron and James' projects.
Outside of the lab, we all participated in the Winship 5K race this past weekend. With the assistance of some friends and family, we were able to raise nearly $1000 for cancer research at Winship and were able to experience some friendly competition on campus. We all look forward to competing again next year!
Our search for a new post-doctoral fellow continues. For more information, see the posted link in the rotating carousel or reach out to any of the members of the lab. Experience in immunology is desired.